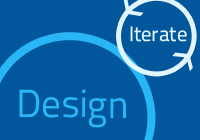 I create user experiences that are MVP (minimum viable products) to increase conversion and lessen page abandonment. This results in a rich and engaging user experience that is aesthetically intuitive and enhances brand loyalty.
I utilize universal design principles and user-centered design methodologies to create a user experience that fits the mental model of the user. This reduces the cognitive load on the user so they can move freely with less friction. Resulting in customer brand loyalty.
UX/UI Procces
Closing the Gap
For existing online products I look at the micro and macro (KPI) conversion rates as an opportunity to simplify an online task. Looking at this analytical data provides insight into problem spaces between the physical system and the users goals known as the gulf of execution and evaluation. The key is to build a better bridge (interface) between them, making the user experience and user interface as "Fisher-Price" as possible, an analogy I use for simplicity.
The Gulf of Execution and Evaluation